Freshome
has some great ideas to fill your Christmas with green-lovin'. Hope you enjoy reading my interpretation of their inspiration!
1. Gift seed growing kits to holiday party hosts, or anyone for that matter!
I've been seeing these everywhere.
Restoration Hardware sells a good amount of gardening essentials ranging from seed rulers to this French Herb Growing Kit.
2. Reuse old decor.
I used extra ribbon that we had left over from our wedding to make bows on our tree branches. They look rustic and elegant next to the lights and ornaments.
3. Conserve energy.
Sometimes it's hard to remind yourself to unplug the Christmas tree lights when you are leaving the house or going to bed, but the electricity can add up. There are a lot of LED light strands available inexpensively. I've seen them at
Christmas Tree Shops
for next to nothing.
via myfirstlittleplace
4. Use recycled wrapping paper.
It takes a lot of paper to wrap all those gifts. Newspaper is great for wrapping and I'm also a fan of wrapping with brown grocery bags, just flip them inside out! Both can be dressed up with handmade tags and ribbon.
via designapothecary
via brunchatsaks
via green.yourway
5. Try a different tree.
There's no reason to feel guilty about getting a real Christmas tree, as they grown on tree farms rather than in the wild. However, it's always worth trying a new "tree".
via designblog.org
via theperfectplaceflorist
6. Make your own wreath.
It really is so easy. Here are two handmade wreaths that we have in our apartment. I used garlands and twisted them around in a circle. I got the idea form my Mom. Thanks, Mom!
7. Use recycled paper for Christmas cards.
Check out these handmade recycle stock Holiday cards from
Brightstem
at Etsy.
8. Dress your table differently.
Try using things like branches, berries, fruit, in season blooms, pine cones and ornaments you already have or can find outside to decorate your table. Take a walk into the yard and see what you can scrounge up! Fresh fruit and nuts are great in the center of the table because they can be picked at and munched on throughout a meal.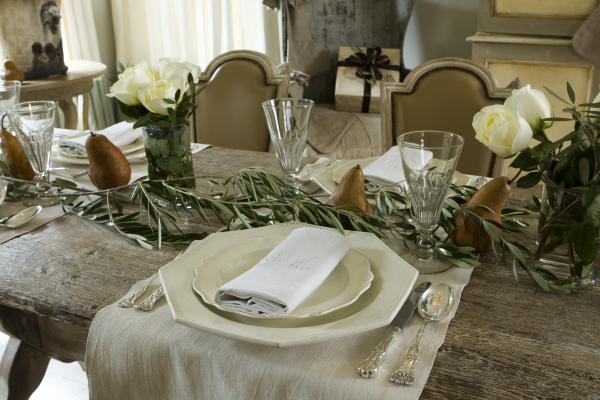 via sheknows
via eclairecreations
via budgetwisehome
via asoftplace
9. Recycle your Christmas tree.
After you've enjoyed your tree, take it to a recycling yard to have it turned into wood chips and mulch. In Boston, leave your tree out on trash day during the first 2 weeks of January to be picked up with the regular recyclables.