Well, we're moving forward. Slowly but surely, we're moving forward. We've spent a lot of time scratching our heads and weighing our options but I think we finally have a direction thanks to my best friend and her husband.
Click here to check out where we started.
They purchased a cape a few years ago and completely renovated the entire house, transforming it into a beautiful and cozy home. I will try to nab some before and after photos to show you how talented they both are!
Back to the bathroom. First, we are going to install white 4 foot beadboard wainscoting around the space with a white wood chair rail. Because the tile shower is such a dark royal blue, I wanted to use softer shades of the same hue to play up one of my favorite design principles: contrast. Much softer color would be better so the small room doesn't look like a blueberry. The upper portion of the walls will be painted a light blue, and the trim will be a fresh white. We'll keep the silver leaf ceiling the way it is, and the penny floor tile will also be a keeper. The accordion closet door is already down, thank goodness! It will be replaced with a blue and white seersucker curtain. A new mirror will be a must, and some hooks for towels would also be great. The towel bar is in fine shape, so some hooks and a toilet paper holder will have to coordinate well with the geometrics and polished chrome finish. I love glass doorknobs, so maybe I'll throw in one of those too:)

I would love to paint the inside of the closet dark blue to balance out the shower tile someday.
Benjamin Moore's White Satin for the top half of the walls:
The beadboard will be something like this:
jdumoulin
The ceiling will stay:
and the floor tile too:
these mirrors won't:
they'll be replaced with one like this hung horizontally: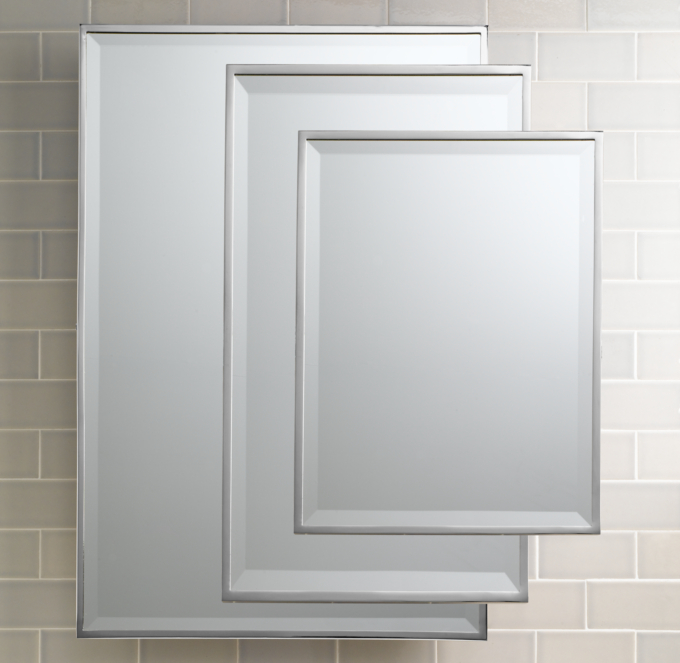 restorationhardware
seersucker fabric for the closet curtain:
a gorgeous glass doorknob:
anthropologie
the existing towel bar is great:
so a hook like this in polished chrome on the door and next to the shower would work well:
restorationhardware
we would need a toilet paper holder too:
restorationhardware
Voila! I hope it's as easy as writing this post!
Here are some more images to inspire your blue and white bathroom:
flickr
countryliving
amandatabberer
thefullnessofjoy
atticmag
decorpad
atticmag
interiordesignrooms
harmonyinteriors
stylehandler
skarrletteshammer
modernfurnitureset
I know this isn't a bathroom but I just couldn't help myself from posting this gorgeous and fresh blue and white room!
decorpad